Unity Eastern Region Ministry Profile
About Unity Panamericano (Spanish)
In Washington Heights, Unity Panamericano is a ministry of prayer and a school of practical Christianity, its members are known as students of truth and its teachings were what Jesus of Nazareth imparted to his disciples. The reference text used is the Bible. The ministry is directed by the Reverend Pedro Luis Bisono. The purpose of our congregation is to bring spirituality to a process of maturity, which allows our members to reproduce, so that they can understand The truth of which Jesus spoke, as a form of training, so that they can glorify God in and through of it.
Services
Sunday Service: 9:30 am
Bible class Wednesday & Friday at 6 pm, and Sunday at 7 AM
Meet the minister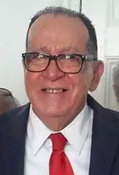 About Rev. Pedro Luis Bisono
Rev. Pedro Luis Bisono serves this ministry as the senior minister. In 2020, he has been the minister for 17 years at Unity Panamericano and this ministry will be celebrating 60 years!
Ministry Information
Unity Panamericano (Spanish)
386 Audubon Avenue
New York NY 10033 United States
Phone: 212-923-3699
Email: bardomr@verizon.net