About Unity Church of Tidewater
Unity Church of Tidewater is a diverse community open to all religions and creeds – without intent or attempt to convert.  Our Sunday services are reverent and centered on teachings from the Bible. 
By applying spiritual principles in a Christ-centered way, we learn how to bring forth the gifts of the Spirit and live a dynamic, joy-filled and abundant life.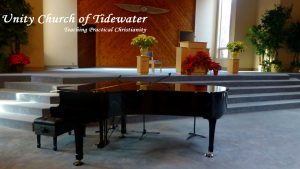 Please join us for Sunday Services each week at 11a.m. for an hour of spiritual inspiration, guidance and uplifting music.
Services
10:30 AM Meditation Prayer Service
11:00 AM Church Service  
11:00 AM Sunday School with Nursery